Here's another star from Philips Norelco family. It's Norelco 1250x/40 with all the features to assure you the smoothest shave possible. It comes with highly advanced saving technology and Philips long-standing trust and with a 2 years warranty. Here's the full review.
These are absolutely no differences in
Philips Norelco 1250x/47
and Philips Norelco 1250x/40. The only thing special about 1250x/47 is that it comes with a Jet Clean system. Other than it, it's exactly the same shaver as 1250x/40.
There's not much different between
Philips Norelco 1290x/40
and 1250x/40 either. But of course there's some. That's why Norelco 1250x/40 is bit cheaper than 1290x/40.
Check it on Amazon
Incredibly Close Shave with GyroFlex 3D System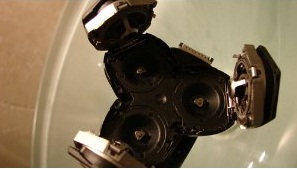 Philips GyroFlex 3D System gives you the closest shave possible, with its independently moving three dynamic part head, which follows the natural contours of your face by flexing outward, pivoting around & tilting inward. The technology is unique to SensoTouch 3d. Unlike other razors you don't need to put unnecessary pressure to reach certain areas of your face. You just move it effortlessly close to your skin & GyroFlex 3D System will take care of the rest.
Not only that, the three UltraTrack heads has solution for every possible hair type on your face. It has slots for the long hairs, channels for the longer hairs, and holes for the shortest stubble. It makes sure that nothing will be left behind. The best thing about the shaver is that, shaving is much more quicker. With combination of GyroFlex 3D & UltraTrack it catches every hair in just a few strokes. Isn't that great? Seriously, who likes spending time for having? Philips Norelco 1250x/40 perfectly fits your busy lifestyle. It's quick, it's accurate & it's safe. It has Lift&Cut dual blade system that lifts hair above skin level before cutting. So there's no danger of damaging your skin. It even lifts hairs above skin level to cut it comfortably. So absolutely no stray hairs or stubble left behind.
Comfortable Dry Shave or Refreshing Wet Shave
It has ability to shave wet or dry. You can use this electric shaver with either shaving cream, shaving gel, or if you like you can use it dry. Either way the result is same, a smooth shave. It's just for personal preference. It's up to you to choose which way you want to shave. While shaving, the low-friction SkinGlide shaving surface slides smoothly along your skin for a close shave without irritation. The shaver is completely waterproof, so you can shave in the shower as well.
Easy to Hold & Travel Friendly Design
Like all other Philips Norelco SensoTouch electric shavers, this one also comes cordless. It's designed for ease of use, the SensoTouch 3D has an easy-to-hold handle with an ergonomic grip for optimum control. The convenient trimmer offers skin friendly precision for your mustache, goatee, or side burns.
It takes only one hour for shaver to reach its maximum battery level once it connected to power. There's a display to let you know how much power remains in the lithium-ion battery. And once it fully charged, it can continuously run for 50 minutes (or a maximum of 17 days standby) without having to charge again. Shaving time for average person will always be less than 5 minutes. The display also indicates when you need to replace the blades.
The SensoTouch 3D is completely cord free, has a travel lock & comes with a protective pouch, so you can toss it in your bag, briefcase, or suitcase when you're on the go. Additionally, the razor features a worldwide voltage function that adjusts automatically from 100 volts to 240 volts AC, making the SensoTouch 3D ideal for international travel.
What's in the Box?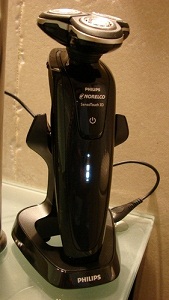 Philips Norelco 1250x/40 is backed by 2 years of manufacturer's warranty for machine and you'll find following tools & parts in the box.
SensoTouch 3D 1250X/40 razor with lithium-ion battery
Charging Stand
Soft Pouch
Protective Cap
Power Cord
Cleaning Brush
Consumer Feedback
Nothing is perfect at least not for every person who uses this shaver. At Amazon.com, Philips Norelco 1250x/40 SensoTouch 3d Shaver has overall rating of 4.3 out of 5, which is a very good rating & means lots of consumers who actually brought this shaver are happy with it. And why don't they? It has everything a person can expect from an electric shaver. I'll list some negative reviews below.
Unable to replace "" serious production issue???
Great shave but overpriced
Requires stand to charge, wish it charged via USB
Those are the few 3 star feedbacks I found on Amazon review pages. And I must say that there's no serious production issue thing for this shaver. Here are some happy consumer thoughts about the shaver,
Amazing!!
Next generation razor
Beats the Braun Pulsonic!
The Best ever
This is an excellent razor, Worth it!
So if you're looking for a new shaver, Philips Norelco 1250x/40 is among the best choices available at the market. I'm sure you gonna love it as other happy consumers around the globe. Shaver is well worth the money. Don't go with those few negative reviews, unless you find bunch of them. Anything over 4 on amazon means product is great.
Check it on Amazon