zPanel is a cPanel alternative you can use to manage your server. It's a free software and it's interface is very similar to cPanel. On this tutorial, i'm going to show you how to install zPanel on a Ubuntu 12.04 server.
The reason i'm using Ubuntu 12.04 is that zPanel does not support later versions of Ubuntu. So please make sure your server has Ubuntu 12.04 as OS. If you don't have a VPS yet, you can get one from DigitalOcean (Click to get $10 credit). And also it should be a new VPS server with No Software previously installed. Otherwise zPanel installation will fail.
Create a sub-domain for zPanel
zPanel will work without a domain. You can use your server's ip address to access it. But a sub-domain will be easier to remember. So go to your domain control panel from the domain registrar and create new 'A Record' for zPanel. you can use any sub-domain you want. I'm going to use test.tjosm.com for mine. If you don't know how to create an 'A Record', you should refer to your registrar's documentation. Each registrar has a different method.
Install zPanel on Ubuntu 12.04
Logged into the server using Putty as root, run following command to update apt cache,
apt-get update
Then run following command to download the zPanel install script,
wget https://raw.github.com/zpanel/installers/master/install/Ubuntu-12_04/10_1_1.sh
Make the script executable,
chmod +x 10_1_1.sh
Then run the script
sudo ./10_1_1.sh
test.tjosm.com
. Then you'll be asked for public IP address of the server. Type in your server's IP address and confirm the installation.
It'll take few minutes to complete the installation. The script will install all necessary components to host websites on your server including Apache, php, MySQL, FTP, phpMyAdmin and many more. You'll see your login details on CLI after successful install of zPanel. It'll look similar to below image. Make sure you save your login details as this will be the last time it's being displayed.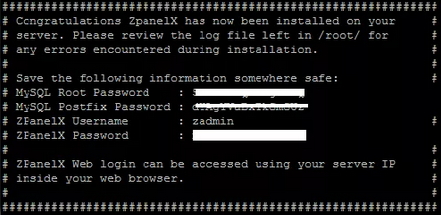 Finally, you'll be asked to restart your server. And when your server comes back online, you can access zPanel from your server's IP address or sud-domain you setup earlier.